Studio 2017 not confirming same units automatically
Objavljivač niti: David Jessop
David Jessop


Španija


Član:


španski na engleski
+ ...

For example, unit 526 is the same as 525 in this postediting project so when clicking Confirm and Move to Next Segment for 525, I would like it to automatically confirm 526 also and move on to 527. I know this is possible but I cannot find the option to tick.





Thank you!

Best,
David

[Edited at 2020-12-01 03:11 GMT]
Yossi Rozenman


Nemačka
Local time:

05:40




Član (2006)


engleski na hebrejski
+ ...

David Jessop


Španija


Član:


španski na engleski
+ ...


POKRETAČ TEME
| | |
| --- | --- |
| Still doesn't work | Dec 1, 2020 |
Yossi Rozenman wrote:

Go to File -> Options. Under Editor, select Auto-prppagation, and on the right pane select the desired settings.

HTH



Thank you, but as you can see from the screenshot below, I had all the options selected and it still did not work. Any other ideas?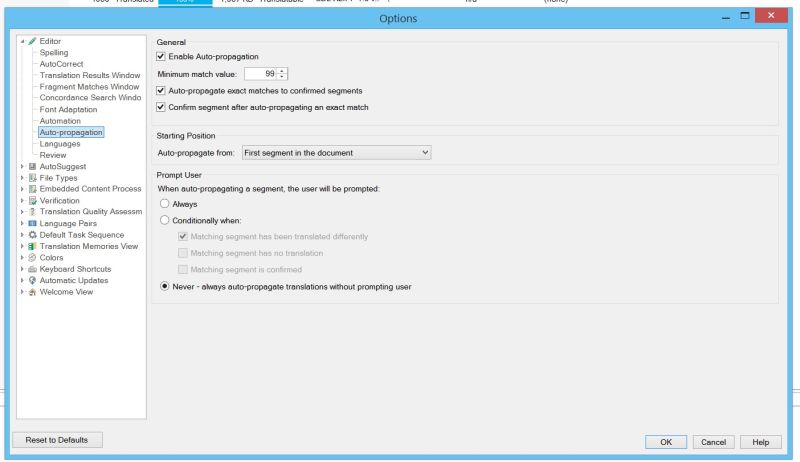 To report site rules violations or get help, contact a site moderator:
You can also contact site staff by
submitting a support request »
Studio 2017 not confirming same units automatically
SDL MultiTerm 2021
One central location to store and manage multilingual terminology.

By providing access to all those involved in applying terminology (such as engineers, marketers, translators, and terminologists), our terminology management solution ensures consistent and high-quality content from source through to translation.

More info »
PerfectIt consistency checker
Faster Checking, Greater Accuracy

PerfectIt helps deliver error-free documents. It improves consistency, ensures quality and helps to enforce style guides. It's a powerful tool for pro users, and comes with the assurance of a 30-day money back guarantee.

More info »