Poslovno članstvo na ProZ.com
Poslovno članstvo na ProZ.com, vodeće zajednice nezavisnih prevodioca u svetu, ima svojih prednosti
Register now and evaluate membership later.

Standard
Opcija članstva na ProZ.com za prevodilačke kompanije
Kupi

Plus
Streamlined operations and more, for growing language businesses
Includes everything in the Business Standard package, plus:
Kupi

Enterprise
Full ProZ.com access and tailored services for leading LSPs
Includes everything in the Business Plus package, plus:
Enterprise Member badge
Highest-level placement in the ProZ.com directory of translation companies
Neograničena mogućnost oglašavanja poslova
Unlimited communications to freelancers and companies in Freelancer directory, LSP directory, Pools and Lists
API access to ProZ.com database (permission-based), including support for ProZ.com registration, sign-in and profile completion in your application
Dedicated concierge service representative (and limited development support) from the ProZ.com team
Kupi
These are just a few ProZ.com Business members: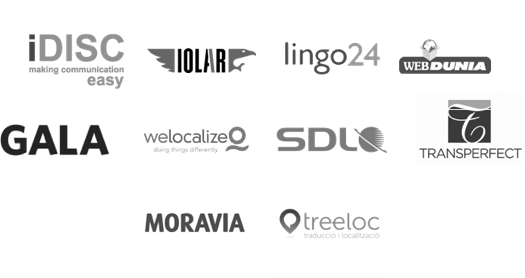 Poslovna članarina za ProZ.com vam može pomoći da:
Razvijajte svoj posao prevođenja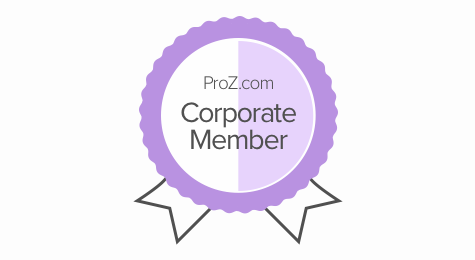 Istaknite se u odnosu na konkurenciju
Your Business member badge will differentiate you from other companies, and is an added mark of trust that works to your benefit when dealing with potential clients or when recruiting new service providers.
Popnite se na vrh.
The ProZ.com company directory is the industry's busiest directory for finding translation companies. Business membership puts your company in the first layer of directory results, increasing your visibility to potential clients. Long-time Business members will tell you this benefit alone is more than worth the membership fee.
Tools to find the right talent
Because your success is all about who you work with.
1.
Search for talent in the largest directory in the translation industry with over 750,000 language services providers worldwide.
2.
Save 50% in recruitment time with a ProZ.com recruitment management application, giving you access to 34 different search filters to find the right candidate in minutes.
3.
Check potential service providers with the Scam Prevention Tool.
4.
Manage your vendors in a dynamic platform that includes up-to-date data on the availability of service providers.
5.
9 APIs available to integrate your system with ProZ.com.
Tekuće obučavanje
Budite u toku s novostima
Included in Business Membership is access to the Plus Video Library – a growing collection of over 900 hours of training content about translation, business, technical topics, and more.
In addition, enjoy up to $600 in discounts on a wide variety of ProZ.com training sessions.
Upravljajte svojim aktivnostima

Your own customizable translation management system in the cloud. Protemos allows you to create workflows, manage clients, recruit, assign jobs, and keep all communication and data in a single platform.

Save time: your job and recruitment posts are published immediately, without delay.

Be first priority in the ProZ.com support queue, including phone support.

Easily create, send, and track invoices online at ProZ.com.
Pitanja?
Nemojte oklevati da nam se obratite. Bićemo srećni što možemo da vam pomognemo!
Copyright © 1999-2020 ProZ.com - Sva prava su zadržana. Privatnost